Soilmec at Bauma 2016
At BAUMA 2016, Soilmec will introduce several key innovations and range upgrades.
NEW "BLUE" GENERATION SR DRILLING RIGS
Bauma will be the platform for the exhibition of the new "BLUE" generation SR-45, SR-75, SR-95, SR-125 and SR-145 hydraulic drilling rigs for large diameter piles. Based on the experience and success of the first generation, the new SR rigs have been designed to improve their productivity and operating flexibility to an ever higher degree, in addition to operator comfort and safety.
The new rigs are installed with new Tier 4 Diesel engines and are fitted with more powerful and lightweight rotaries with torque increased of more than 20% and pull up of more than 30%.
The new SR line generation has also seen a reduction in weight but an improvement in performance thanks to the use of high-strength steel and a new mast design with standardised section.
The new "BLUE" SR rig generation come with new larger cabs, with improved comfort and visibility and, in particular, equipped with a new DMS system (Drilling Mate System) to allow control of all the operating parameters.
SM DRILLING RIGS FOR MICROPILES AND ANCHORING
The new SM drilling rigs are the outcome of Soilmec expertise and Puntel engineering, aimed at increasing performance, safety and innovation. The new drilling rigs stand out for an extensive series of movements making it possible to work in various positions and to perform lateral movements in total safety.
Thanks to an innovative kinematic mechanism, the machines can also operate parallel to the tracks. Furthermore, the new models will be suited for an extremely varied range of working applications and technologies since they offer a wide range of rotary heads, clamp/joint breakers and modular masts with varying travel of the rotary heads.
Soilmec has improved safety for the operator and for all those working in proximity to the drilling rig. These improvements have been achieved by carefully studying all potential hazards, adopting the most sophisticated safety systems and equipping the machines with latest generation remote controls for total control even at a distance.
SOILMEC CRANES
At the Bauma 2016, Soilmec presents two new models of duty cycle crawler cranes, the SC-120 HD and the SC-50 HD, which complete the development of the new product range started on the previous Bauma edition. These models combine heavy-duty performances with the chance to be easily configured in several working configurations: diaphragm wall grab, hydraulic rotary, pile driving, dragline, clamshell, dynamic compaction, casing oscillator, etc.
All models of the SC range install the-state-of-the-art operator cabin, the Soilmec H-Cab, with high comfort and ergonomics for the operator, together with the advance generation of DMS control system, monitoring the state of the machine and offering a dedicated software package for each technology.
Finally, the SC crawler cranes are available in both Tier 4 and Tier 3 engine versions and they offer all necessary safety features to guarantee the safe use and the maintenance of the machine.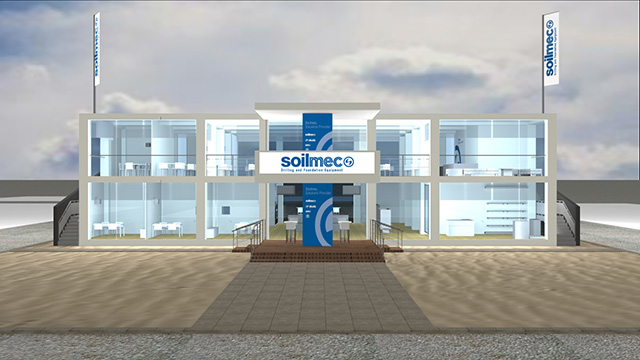 Soilmec will welcome Bauma visitors in North External Arera (stand FN.522) featuring a two-floor stand with comfortable reception areas.
GET SOILMEC'S E-NEWSLETTER
We send out a regular email newsletter with useful drilling industry information, news articles and upcoming events as well as news of new and used machinery. Hundreds have signed up already - you can unsubscribe at any time if you wish.