Flexibility, performance, and a low environmental impact. These are the key points of the new ​design of the most versatile and reliable rig for ​the micro drilling ​sector, the SM-15.
SM-15: Versatility
The SM-15 design ensures versatility with rapid conversions of specific kits to provide a variety of configurations which can be utilised in multiple drilling applications.
With an extensive series of movements and mast inclinations, the rig can operate lateral positions in complete safety within even the most demanding of environments.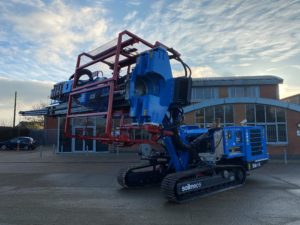 The SM-15 can be supplied with three types of kinematic mechanism:
Standard with cylinders
A slew ring for quick and precise adjustment +/- 180°
A 'Front of the wall' joint type to allow drilling on the side of the tracks and reach within confined spaces.
Equipped with a monolithic mast with 4000mm stroke by cylinder, the SM-15 has the option of a Modular mast with 4300mm + 5300mm and 7000mm stroke.
Additionally, the SM-15 has a range of rotary heads options with varying torques and drilling speeds. The new double rotary head will ensure a high performance in a compact size and can easily be converted to single rotary when required. The rotary side shifting device is also available in both single and double head configurations.
SM-15: Advanced Engine
SM-15 has the most advanced Cummins diesel stage V engine. With low idle control and efficient load sensing hydraulic plant to reduce noise, fuel consumption and carbon emissions the SM-15 ensures a low environmental impact.
The new soundproofed canopy is designed to minimise the sound level and increase accessibility during inspection and maintenance procedures.
SM-15:  Enhanced safety and operation
SM-15 is designed to ensure the highest level of accessibility, visibility, and safety in compliance with EN16228 standards.
Hydraulic openable safety cages driven by cylinder
Additional trip wire devices
Wireless radio remote control
Slow rotation
Emergency stop buttons
ROM and SPM operation modes
Optional new carousel loading system
Optional hydraulic arm to handle rods & casing
The SM-15 is supplied with a full radio remote control for drilling, positioning, and tracking with the option to use a pivotal support arm or tripod for the operator's convenience.
The control design increases operating speed and efficiency, being easy and intuitive to use with accessible gauges and controls grouped based on function.
Fitted with the DMS on board, the LCD display can both monitor and download the rig parameters as well as providing remote connection to the rig with DMS Manager 4.0, the cloud running app for asset, fleet, and site management.
SM-15 Standard Specification**:
SM-15 – operating weight: 16,500Kg
CUMMINS B4.5 STAGE V Engine 140Kw
EN 16228 Compliant
Load sensing hydraulic system: Main pump 290 l/min, pressure 32MPa
Swivelling boom: turret driven by cylinder: +/- 35° (Mast with 4m stroke in single head version)
Counter slide: Articulated new joint on mast: ± 90° without pins removing
Sliding mast by cylinder with 1250 mm stroke (Mast with 4m stroke in single head version)
Hydraulic system: main pump 290 l/min – tank capacity 510l
Service winch complete with jib extension – line pull 20kN
ROTARY HEAD HD-1200V – Max torque: 1207 daNm, Max rotation speed: 277 rpm
Monolithic Mast for 4m STROKE – Rods length: 3 m – Feed stroke: 4.000 mm (modular mast available)
CLAMP ASSEMBLY RANGE 60-415 mm – Max clamping force: 266 kN
BREAKER ASSEMBLY RANGE 60-415 mm C/W EXTRACTOR DEVICE 100kN
Radio Remote Control
AUTOMATIC AIR/WATER ASSEMBLY 8l – 30 bar pressure
Foam pump: 30 l/min – 150 bar
Slow rotation kit
BELLIN PUMP N800L
Lifting kit and container shipping accessories
**Specification can be tailored to suit individual requirements.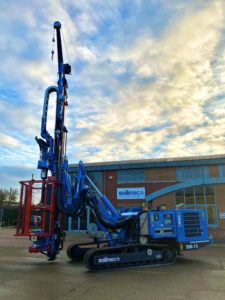 For further information on the SM-15 drilling rig and other equipment available within the Soilmec mini piling & micro drilling range, please contact:
 Craig Anderson – Mini Piling Sales Manager
craig@soilmec.co.uk   :  Office: 01832 274602  :  Mobile: 07841 775433