Temporary steel casings are designed to perform cased boreholes, especially for pile installation when applying the rotary drilling method.
The benefits of producing cased boreholes, especially for pile installation applying the rotary drilling method are many including:
No mud discharge, benefitting green and environmental protection.
Solving the problem of the wall protection and drilling of the rotary drilling rig in the complex sand layer, fluid plastic silt layer, backfill layer, pebble layer, etc.
The guiding effect of the casing itself can be used to control the verticality of the pile.
There is no effect of mud and sediment caused by mud wall protection on the weakening of the bearing capacity of the bored pile, so that the lateral friction resistance and bearing capacity of the pile are greatly improved compared with other pile types.
Avoids the quality problems such as shrinkage, broken piles and concrete segregation that may occur in general cast-in-place piles.
The potential issue of hole wall collapse of the upper unstable section caused by suction and disturbance during drilling is completely avoided.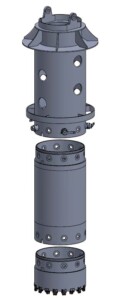 Soilmec casing are made of double-wall pipes – single wall casing is also available for use when weight factor needs to be considered and all are available in differing casing section lengths.
Our double-walled bore casing can be used universally, designed especially for transmitting high rotational and vertical forces as created by the rotary drives and oscillators on equipment such as the Soilmec SR-75, SR-95 and SR-125 drilling rigs.
The use of double-walled casings ensures a flush drill string with casing accessories including a casing drive adapter, casing joints and casing shoes.
The casing drive adapter is used to connect the casing to the rotary table, the adapter will be of the same diameter and thickness of the casing and is welded to the rig's rotary flange.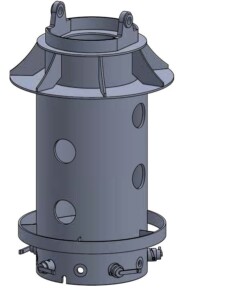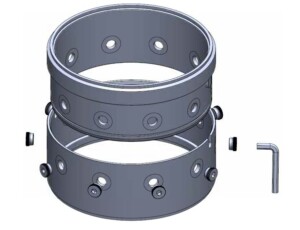 The casing joint is made with high accuracy ensuring the fast replacement and bolting of the casing as well as the best for force transmission effect. The casing joint connections are on both sides with female or male parts, supplied with Screw Type connection in the popular interchangeable specification –  the custom-fit joint enables the quick positioning and screwing together of pipes.
The casing shoe, fitted with interchangeable WS39 casing teeth is the result of years of experience with drilling equipment casing boreholes in difficult soil formations. The casing shoe is particularly suitable for formation of rock and the construction of bored pile walls.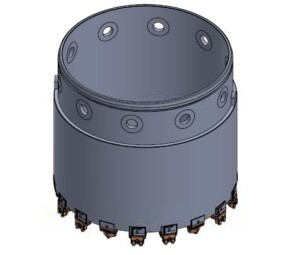 Soilmec Ltd have a UK current stock of double wall casing and can provide quotes for all your casing requirements in varying lengths and diameters.
                  Please contact our sales team for quotations and to discuss the current stock availability