Central Piling Ltd have taken delivery of a new SF-65 drill rig.
Whilst the rig was in testing prior to despatch, Central Piling's Managing Director Steve Hadley received another delivery; a new baby boy for his family.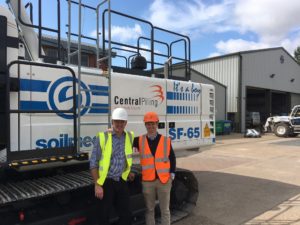 This coincided perfectly with the delivery of the new rig and to celebrate Soilmec signed the SF-65 with 'It's a boy!'
Today, Steve Hadley and Contracts Director Roger Cox visited Soilmec Ltd to receive delivery of the SF-65 drilling rig.
The new rig is set to start work this week on site in Marble Arch, London producing secant walls to a depth of 21 m, 750 mm diameter.