VolkerGround Engineering recently visited Soilmec Spa in Cesena with Mark Nelson. Brandon Ferreira (director), Rob Howarth (construction manager) and Mark Curtis (site supervisor) joined the Soilmec team in Italy to celebrate a milestone for Soilmec: the production of our 5,000th large diameter piles (LDP) machine.
Francesco Bassi, Europe sales director of Soilmec, and Mark Nelson, Soilmec Ltd (UK) director, commented: "We are thrilled to be handing over the keys to the SR-95, serial number 5,000, to VolkerGround Engineering at the handover ceremony held at our factory in Cesena. Soilmec and its sister company, Soilmec UK, are delighted with this sale. It sees another multifunctional rig entering the UK market to enrich our existing fleet to help deliver many successful projects in the near future".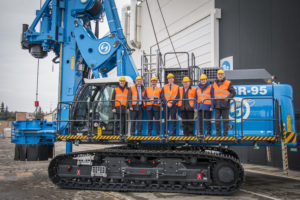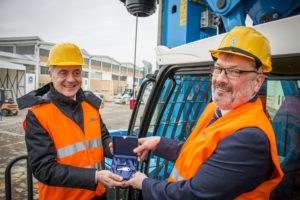 The ceremony was an opportunity to hear directly from one of our customers. We asked Brandon what it means to take delivery of a rig from a company like Soilmec. Brandon commented: "We have chosen Soilmec because of the innovation, the technology, the continuous learning and improvement of the piling rigs. We are in a technology age, where there is a lot happening and Soilmec is improving all the time. It is critical for any business to be at the forefront of what they do."
We also asked Brandon why the business chose the SR-95 in CFA configuration and where its first destination will be. Brandon said: "The rig will hopefully be starting at a project in Cardigan Bay, Wales, next month. The reason we wanted a quick configuration is it will be doing rotary and CFA piling on the same project so the SR-95 is absolutely perfect for what we need. In regards to our London work we are doing a lot of deep piling, so it is critical to have a rig which is capable of doing the work. The dual purpose element of the rig means that we can use it in different ways as well."
Finally, we wanted to understand the situation in terms of the foundation sector in the UK and what is on the horizon. "Currently in the UK, Brexit is the biggest problem we are facing", continued Brandon, "it has had an impact on workflow. The government has supported the country through infrastructure works such as High Speed Two (HS2), Crossrail, and Crossrail 2 so there will be workflow opportunities from those projects.