New SR-75 drill rig for the Van Elle fleet
Van Elle Ltd have purchased another SR-75 drilling rig to add to their growing Soilmec equipment.
The new SR-75 rig is supplied rotary and 2 line CFA configuration and joins the R-625, SR-95 and SR-75 LDP drilling rigs already owned by Van Elle Ltd.
The SR-75 drilling rig is capable of a maximum pile depth in rotary of 76m with a diameter of 2500mm.
Quick change 2 line CFA enables onsite conversion of the rig to CFA for a depth of 23.4m using an auger string of 17m and an 8m Kelly extension. Maximum 2 line CFA pile diameter is 1200mm.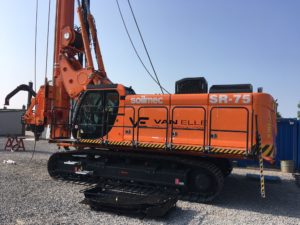 GET SOILMEC'S E-NEWSLETTER
We send out a regular email newsletter with useful drilling industry information, news articles and upcoming events as well as news of new and used machinery. Hundreds have signed up already - you can unsubscribe at any time if you wish.