NEW SR-30 EVO CFA RIG NSP CIVIL ENGINEERING
NSP Civil Engineering have purchased a new SR-30 EVO drill rig in 23m CFA.
The SR-30 rig, capable of 23m depth in 4 line CFA comprising of 17.5 auger length and 6m extension to a diameter of 900mm.
The SR-30 rig will be transported to Jersey ready to its first site job before returning to Guernsey.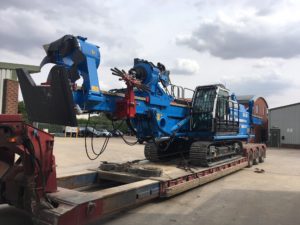 GET SOILMEC'S E-NEWSLETTER
We send out a regular email newsletter with useful drilling industry information, news articles and upcoming events as well as news of new and used machinery. Hundreds have signed up already - you can unsubscribe at any time if you wish.