Soil Engineering take delivery of two new Soilmec SM-8G's
To further enhance their fleet of Soilmec rigs, Soil Engineering have taken delivery of two new Soilmec SM-8G Drill Rigs.
The SM-8G is a 8 tonne class rig dedicated to geotechnical use, for conventional coring, wire line and water well. High precision coring is the result of the fixed kinematic mast with a large drill section, which also houses the cylinder crowd system.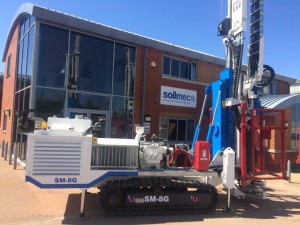 Soil Engineering required a high specification, including a 320m capacity wire line winch, a triplex pump to give 200 l/min @ 45 bar, high speed rotary with 926 max. rpm, 320mm clamp and breakers and rubber track pads.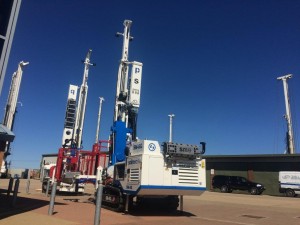 In addition the rigs were delivered with a pre-arrangement for top hammer to enable Soil Engineering to utilise the rigs in other applications.
The rigs have commenced work on the HS2 project.
GET SOILMEC'S E-NEWSLETTER
We send out a regular email newsletter with useful drilling industry information, news articles and upcoming events as well as news of new and used machinery. Hundreds have signed up already - you can unsubscribe at any time if you wish.