SR-75 CFA Drilling Rig For Rock & Alluvium Ltd
The latest Soilmec rig for the Rock & Alluvium Ltd fleet is the SR-75 drill rig in 4 line CFA configuration.
The SR-75 in CFA is capable of a maximum diameter of 1200mm and a depth of 29m with 21m of auger & 8m extension.
This SR-75 rig has been supplied in special transport configuration meaning the rotary, foot section and gates can remain mounted to the rig saving onsite assembly time and extra transport costs.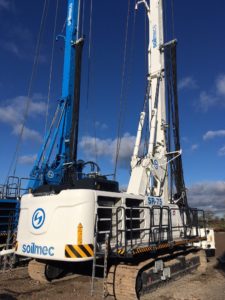 GET SOILMEC'S E-NEWSLETTER
We send out a regular email newsletter with useful drilling industry information, news articles and upcoming events as well as news of new and used machinery. Hundreds have signed up already - you can unsubscribe at any time if you wish.