New SR-45 drill rig for Central Piling Ltd
Central Piling Ltd have taken delivery of a new SR-45 drilling rig in rotary and 2 line quick conversion CFA configuration.
The SR-45 drilling rig complete with a 4 x 10.5m Kelly bar is capable of a drilling depth of 38m and 22m in 2 line CFA.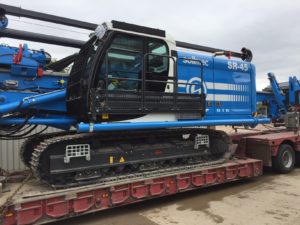 GET SOILMEC'S E-NEWSLETTER
We send out a regular email newsletter with useful drilling industry information, news articles and upcoming events as well as news of new and used machinery. Hundreds have signed up already - you can unsubscribe at any time if you wish.