Lagan Construction Group Ltd collect new SR-95 Drill Rig
Lagan Construction Group Ltd have taken delivery of a new SR-95 Drilling rig in rotary and 2 line quick change CFA configuration.
Delivered in their custom paint specification, the SR-95 drilling rig is capable of  a drilling depth of 41m with a 4 x 11.5m Kelly bar and 26.5m in 2 line CFA with a 8.5m extension.
This latest machine adds to their growing number of new Soilmec equipment purchased in the past 24 months including two SF-65 CFA drill rigs and two SR-75 drill rigs in rotary and CFA.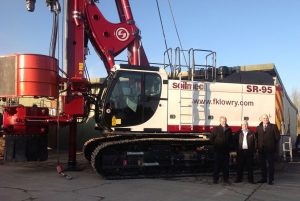 Pat McKay, Plant General Manager of Lagan Plant Ltd and Niall McGill, Piling Director of FK Lowry Piling Ltd attended the Soilmec office in Polebrook to take delivery of the SR-95  Drill Rig.
GET SOILMEC'S E-NEWSLETTER
We send out a regular email newsletter with useful drilling industry information, news articles and upcoming events as well as news of new and used machinery. Hundreds have signed up already - you can unsubscribe at any time if you wish.