Soil Engineering invest in new technology for HS2
Soil engineering have taken delivery of two SM-6G micro drill rigs for the High speed 2 project.
 The SM-6G rig is a purpose built micro piling rig with a hydraulic rod rack plus a high speed rotary table with rod handling facility and remote tracking.
The SM-6G rigs also feature a wireline winch capable of 200m depth coring, fitted with a mud & water pump onboard, and also a foam pump and air system.
The new micro rigs conform to the latest engine emissions with Tier 4 final engines.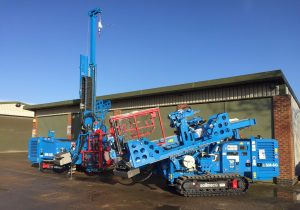 GET SOILMEC'S E-NEWSLETTER
We send out a regular email newsletter with useful drilling industry information, news articles and upcoming events as well as news of new and used machinery. Hundreds have signed up already - you can unsubscribe at any time if you wish.